Winter track warms up for new season
As cool temperatures and harsh weather emerge, the winter track and field team gears up for races as brisk as the winter wind.
With tryouts on Nov. 7 and 9, winter track and field, a coed sport, began its season of running, jumping and throwing events. Like snowflakes, no two winter track events are exactly alike, bringing a wide assortment of athletes onto the team.
"In cross country, there's just the cross country people, but for track, there's also the sprinters and throwers, so [a] larger community," distance runner junior Alex Morris, who also ran cross country in the fall, said. "I like the community; I like seeing myself and the team improve."
While the variety of events is consistent with spring track and field, the winter season brings its own unique conditions. As temperatures cool, track and field migrates to an indoor track for some meets while continuing practices outside. The dimensions of the indoor track alter the lengths of races from the spring to winter seasons: the spring's 800-meter run is shifted to 1000 in winter, and 400 meters become 500. 
"If you look from the competitive view, spring track is more competitive because it's outside, it's much warmer and many people like spring track more," sprinter senior Liza Parkhomenko said. "For winter track, you practice in the cold, so this is the one negative side effect."
Track and field practices vary depending on an athlete's event. While throwers hone their strength in the weight room and practice throws on the field, the distance team intersperses track workouts with runs through the school's surrounding neighborhood. Distance runners focus on maintaining speed and endurance through longer events, with races as long as 3200 meters. 
"Especially for distance, since we talk a lot on the runs, I get to talk to everybody and get to know everybody," distance runner junior Tyler Zarybnisky said. "In some other sports, you're close with people, but this time, I get to talk to people for 40 or 45 minutes a day. I get to know some people really well from just talking to them while running."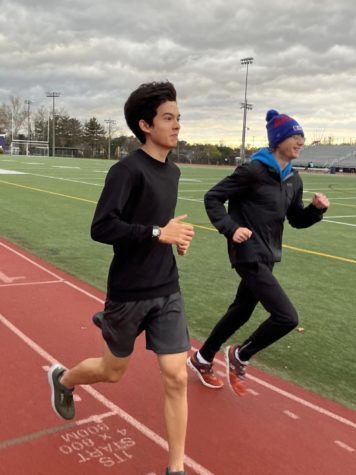 A new front has moved in following the retirement of cross country and track co-head coach Matt Gilchrist after 22 years in the position. Andrew Tramel is now the distance head coach, bringing changes to practices while Jason Franks continues to head sprints and jumps. 
"[Tramel] is a very good coach," Zarybnisky said. "We just have a different routine with how we warm up and the kinds of workouts he's going to give. He's going to have a lot more emphasis on track workouts, whereas Coach G. had a lot more emphasis on tempo runs."
Meanwhile, the team's sprinters run shorter distances from 55 to 500 meters with concentrated speed and are also able to participate in jumping events from pole vault to hurdles.
"I like more explosive stuff," Parkhomenko said. "In the sprints group, you can do any technical events—like jumps—that the distance kids can't do. This process is more enjoyable for me, because you're learning different types of techniques and you have a place to improve."
Winter track jumped into their season Dec. 3 with their first meet, the David Cannon Memorial Polar Bear Invitational. The girls team placed 10th with 24 points, and the boys team placed sixth with 50 points. Track and field's next meet is the Chantilly Big A Brand Winter Extravaganza Polar Bear Meet on Dec. 17 at CHS. Last year's season concluded with the boys team placing 19th at the state level. The team hopes to conclude the season with even more athletes competing at states, whether sprinting in a flurry or weathering a longer event.
"What motivates me is the feeling of doing well, and the accomplishment of watching my times go down," Morris said. "That really keeps me motivated to keep going, because I know I can still get better."