Long awaited 'Avatar' sequel returns with tidal-wave impact after 13 years
As the world's highest grossing film of $2.9 billion, "Avatar" returns to the big screen Dec. 16 to challenge the precedent it set 13 years ago. Its original release in 2009 stormed record box office sales with its cinematography, CGI technology and world immersion. 
The original story takes place in the 2150s when former paralyzed marine Jake Sully, played by Sam Worthington, is recruited to the alien planet world Pandora. Because the atmosphere of the planet is poisonous, human/Na'vi hybrids, called Avatars, are linked with human minds to allow for survival on Pandora. 
Sully connects to his Avatar and falls in love with the world of Pandora and daughter of the Na'vi clan leader, Neytiri, played by Zoe Saldaña. As their bond grows, his allegiance shifts as he fights in a battle to protect the survival of the world of Pandora. "Avatar: The Way of Water" takes Jake and his newly formed family to the underwater world of Pandora as they seek refuge and prepare a plan to face a resurfacing threat. 
"The original was a hit because it didn't really feel manufactured," senior Varna Selvakumar said. "A lot of things with CGI films is its actors acting in front of a green screen, so in post edit you could obviously tell that it was a green screen because something just looked off. But with 'Avatar,' because the actors themselves are a part of the CGI, it was more seamless and, thus, attractive; you couldn't really tell the line was drawn between reality and fantasy."
The creative opportunities for world building within the planet of Pandora required the use of CGI technology that not only included green screens, but also motion capture cameras that were placed on the actors themselves.
Since "Avatar: The Way of Water" takes place underwater, Director James Cameron took steps to upgrade the CGI quality by developing a new camera system with Sony's Venice cameras, where multiple cameras were used to create a stereoscopic 3D system, according to TheVerge. Actors committed to filming underwater, and actress Kate Winslet, who plays Ronal, even learned to hold her breath for over seven minutes.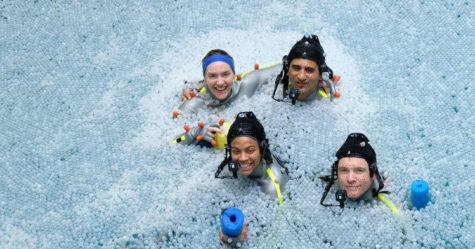 "I think it's amazing that these steps have been taken," senior Varshini Gourishetty said. "'Avatar' was already on the country's top lists, and with these new upgrades to their movies, they have really taken steps to become the best." 
Further upgrades include Cameron's notable achievement in developing ways to film motion capture simultaneously above and below water to fully integrate the immersiveness of CGI. 
"Cameron has always been very dedicated when it comes to making the experience of Pandora feel authentic," senior Yash Vukkalkar said. "As he took four years to make 'Avatar 1,' I am more than excited to see his vision for 'Avatar 2' and how he uses the ocean and water."
The topography shift in the film from a terrestrial setting to an aquatic one allows for unique and creative approaches to the storytelling and introducing of new characters, with the original having flying banshees scenes and the sequel featuring new underwater species including the 'ilu', 'tulkun' and 'skimwing', the sea creatures of the Pandorean oceans, according to ScreenRant.com.    
"I am really excited to see how Cameron will explore the water scenes, as the flying scenes were some of my favorites in the first movie," senior Pari Kansara said. "I hope these ones live up to the ones done before and maybe even surpass them."
Beyond its advanced technology and immersive graphics, the "Avatar" saga carries meaning with messages regarding the real world. The first film emphasized the dangers of deforestation and the sequel focused on promoting ocean conservation, as well as involving themes of spiritualism, capitalism, imperialism, colonialism, human rights abuses and nature deficit disorders. The theme of romanticism is also a prevalent theme in the film for how humans have evolved over time, but should still embrace some of our earlier habits.
"Just because 'Avatar' is set in the future, it has value to 2022 and is relevant to us because it will have the geopolitical social elements of this year that it's coming out," English teacher Michael Murphy said. "In romanticism, the noble savages are in tune with nature and a romantic philosopher would say humanity is at its best in nature– in 'Avatar', they connect to the trees and animals with their hair."
"
Just because 'Avatar' is set in the future, it has value to 2022 and is relevant to us because it will have the geopolitical social elements of this year that it's coming out.
— Michael Murphy
Regardless of the multiple themes and interpretations offered in the series, attention to the climate and nature remains the focal motivation for the "Avatar" story and its message to audiences. 
"I think the coolest part about how they incorporate all the values is since 'Avatar' is family friendly, it sets the tone for future generations," Selvakumar said. "Back when the movie was first released it made a huge change in shift and development about climate change. So hopefully, it'll have the same impact in the sequel."