The turtleneck strikes back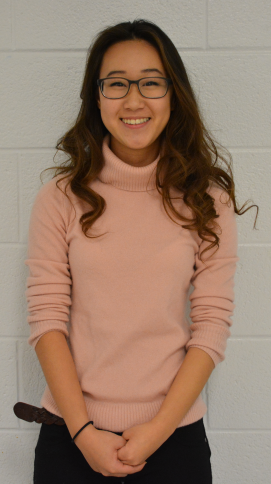 Fashion today seems to be reviving classics typically worn in the 90s. Often associated with the iconic stylings of Steve Urkel, Jerry Seinfeld and fanny-pack-wearing Dwayne "The Rock" Johnson, students are bringing back the tube-necked classic of the turtleneck.
Carrie Fisher's portrayal of Princess Leia in the Star Wars franchise also sports a turtleneck-integrated style. Her iconic draped white dress incorporates a high, tubular collar; a statement for the 1970s and '80s.
"Fashion [is] recycled a lot. Trends come and go, and they come back a lot," senior Syeda Akther said.
A look back in time may reveal some decades as rough patches of poor fashion. However, today the prominence of the 1980s style is not only evident in the comeback of turtlenecks, but also in the comeback of many different popular trends of today.
"Style right now is going backwards and we're going retro," junior Karim Shoorbajee said. "Things that were popular in the 80s are becoming really popular now. Oversized sweaters [and] windbreakers [are coming back]. [And] a lot of shoe companies like Nike are making retro-style 80s shoes."
Other than turtlenecks, 80s fashion items such as relaxed-fit jeans and high-waisted jeans are returning to stores nationwide. Popular culture is also reflecting this retro trend as many celebrities are now wearing styles recycled from the past.
"While they might be more popular in older pop culture in between the 60 and 90s, turtlenecks can be seen in movies and television and [can be] incorporated into the styles of a lot of celebrity musicians these days," senior Zariah Davis said. "Even Drake has one."
Because of both pop culture and functionality, turtlenecks are gaining recognition as a bold new trend for the season.
"[Turtlenecks] are cute and fashionable," Akther said. "They keep you warm too."
Turtlenecks have begun to surge in popularity as many stores have included them in their winter lines.
"[Turtlenecks] have just been everywhere [and are] coming back in stores," Akther said. "I just picked one up [because I] thought it was cute."
A major appeal of turtlenecks is that they fit in well with many other popular clothing items today.
"Due to their simplicity, they are extremely versatile, which I think is a very important key in styling yourself," Davis said. "The simpler the pieces, the more outfits you can get out of them over a period of time."
Davis gives styling tips on unique turtleneck pairings, combinations, and convenience.
"You can wear them with almost anything. My go-to outfit is a turtleneck with either a high-waisted pair of jeans or a skirt and a pair of heeled boots," Davis said. "I probably end up wearing something along those lines nearly every week in winter. I also really like to pair them up with denim jacket."
Although this cozy winter item is becoming increasingly popular, not everyone is quick to join in on this trend.
"I wouldn't wear them right now, because I'm afraid to stand out and I'm not that bold," Shoorbajee said. "But I have a feeling in two years I could wear a turtleneck and people would look at me [and think I am] really stylish.'"
Due to the versatility of turtlenecks, the old trend can be appreciated as a new fashion staple.
"I definitely think turtlenecks are back in style, and I'm excited about it," Davis said. "Even though they are still widely seen as the opposite of trendy or as horrible as double denim or just for Steve Jobs, you can see them everywhere these days from the runway to the hallway."
Leave a Comment
Donate to The Purple Tide
Your donation will support the student journalists of Chantilly High School. Your contribution will allow us to cover our printing and annual website hosting costs.